10 January 2014 | Thievery 1.7.1 Update |

Dalai

This small update fixes a number of bugs and other issues introduced in the big 1.7 update. See the files page for the patch or full install downloads.



25 December 2013 | Thievery 1.7 | Dalai

This latest update for Thievery features ProMod built in as standard, some new equipment for both Guards and Thieves, widescreen fixes, visual improvements and a new loadout/shop interface.

Visit the Thievery 1.7 features page for more information and download links.



12 March 2006 | Thievery 1.6 update | Dalai

Just a small update, fixing some map and code problems:

Fixed the infinite underwater sound rumble.
Optimised netcode (should reduce -PLEASE WAIT- time by about 30%).
Correct version of ThDQ.u included, so multi-floor sketch maps work online.
Misc. bug fixes.
Th-Korman:

Fixed the skybox HOM problem

Th-Nostalgia:

Fixed the giant gem exploit
Added some torches to better balance the map
Fixed misc. bugs

Th-Airship:

Fixed an alarm sound crash with dedicated server installs
Misc. tweaks
1.6 also includes the fixes from the 1.51 Beta Patch previously posted in our forums:
No more crashes when retrieving a very long rope arrow (e.g. on Airship).
No reload delay on the crossbow, instead it simply won't fire if you try to use the crossbow exploit.
Health is displayed correctly when spectating and no longer covers up the spectator names when the scoreboard is showing.
Fixed a bunch of crashes on certain servers involving Fragments, Barrels and Carcasses.
Head on over to the files page for download links.



23 July 2005 | Thievery 1.5 released! | Dalai

Thievery 1.5 is now released and ready for play! This update contains several new maps:
Mensch

by oRGy
Airship:

by Mordengaard
Breandor:

by Nachimir
City Museum:

by Sisu
Soul's Harbor:

by Neopendragon
Also included are updates to classic Thievery maps:
Th-Gerome
Th-Flats
Th-Theatre
Th-Folly
Th-Grange
Th-Korman
Th-Nostalgia
Th-SkeltstonHead
Thievery 1.5 also features a new Watcher model (courtesy of Claymore) and numerous code fixes. A full change list can be found
here
. The Thievery 1.5 installer can be downloaded from these mirrors:
Enjoy! If you have any feedback, you can leave it in our forums, in
this thread
.
13 March 2005 | Thievery 1.5 nearly ready! | Dalai
The Thievery 1.5 patch is almost ready. Small tweaks are being made to some of the maps still, but the main thing holding us back from releasing this update is our need for a new Watcher model. In the latest build, the traditional Thievery watcher has rendering problems, with polygons drawing towards the top left corner of the screen. When we examined the model, we found that it has many intersecting polygons and other such problems.
With our artists focused on Nightblade and Alien Swarm, Mordengaard has started a competition for the best user created watcher model! You can check up on the progress of that right here. Once we have a suitable candidate, we'll do one final test of the 1.5 package and then release it!
Also be sure to check out WildBill's Turf Wars III.
15 July 2004 | Thievery file host | Dalai
Brody has set up a webpage to host all Thievery related files: the mod, patches, custom maps and utilities, everything you need to play Thievery. The site also includes scripts to upload new files. Good stuff.
http://www.thievery-customs.com/
15 July 2004 | Tournament of Darkness v3 | Dalai
Biohazard's third Tournament of Darkness is due this weekend. This is a team based elimination ladder tournament. Check this thread for the info. Hopefully I can get a recording of the final match. Good luck to all teams. :)
Team Rosters
ShanKa Shadows
Grank
TheMach!ne
Gladius
Freaky Alien
Shug

The Valentines
LoUie
OoZe (Terryn)

AYL
Chalrif
Dragon
Gabriel
Cliff
LoToR
Zidane
Radamanthus
Katra

The Black Flame
Fridae
Little Bear
Athelstone
Spider
Salsa
Seemann

Stainless Steal Rats
Aggamemnon
PhaeThorn
Biohazard
Dalai
BrokenArts
10 April 2004 | Turfwars | Dalai
TSG had a successful Turfwars match today vs Mockers. Check out my report here.
1st March 2004 | Tournament of Darkness Final Ladder Match | Dalai
Here's a recording of the final ToD ladder match:
Th-Bourgeois
| | | |
| --- | --- | --- |
| Thieves - The Valentines | | Guards - The Blades |
| Terryn | | Dragon |
| Louie | | Phaethorn |

Download - 60 megs

This movie uses the DivX codec and runs for 15 minutes
at 320x240, featuring the voice chat of Dragon and Phaethorn.
Thanks to Thief Underground for the file hosting.

28 February 2004 | Tournament of Darkness | Dalai
Here are the ladder results from the recent Tournament of Darkness: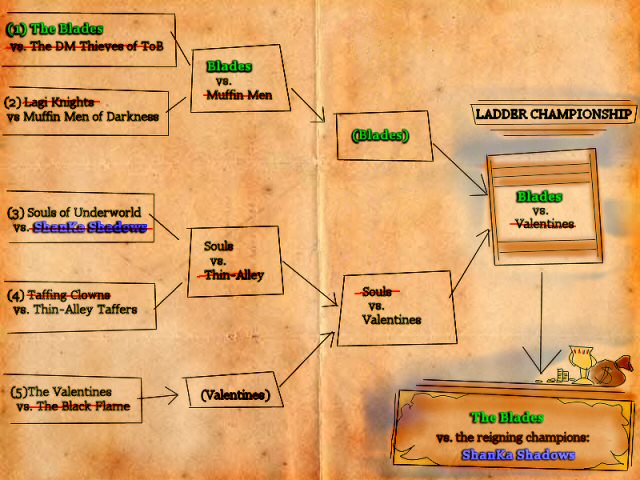 Thanks to Biohazard for organizing the Tournament and to the admins: AlphaOmega, BrokenArts, Brody, Grank and Leatherman for running the servers, matching everyone up and getting them onto the servers to play. Thanks to DeepQantas for the diagram.
There are a bunch of demos and movies from the tournament, but it'll be a while to sort through them before anything is posted. Stay tuned. :)
22 April 2003 | Thievery 1.4 Patch released! | Dalai
This small patch fixes some critical bugs that were hampering online play. Grab it now! For download links and a full list of changes, click here. The full install of Thievery has also been updated to 1.4, so new players will only need to grab that. You can find it on the files page.
20 March 2003 | Thievery 1.3 Patch released! | Dalai
The Thievery 1.3 patch has been released! New maps, features, balance changes and bug fixes. Check it out here.